De top tien van Salon Indien
De favoriete Russische films van de redactie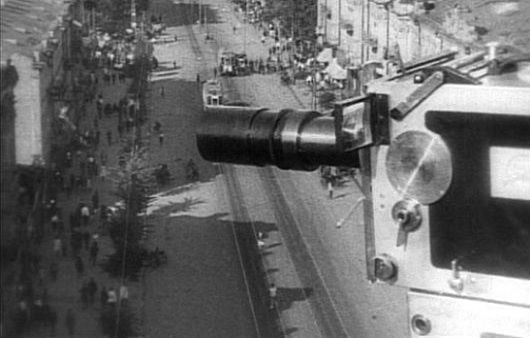 Zoals je inmiddels wellicht van ons gewend bent sluiten we een themamaand graag af met één of meer toplijstjes. In het geval van de Ruslandmaand hebben we gekozen voor individuele lijsten. Ondanks deze aanpak zijn er veel overeenkomsten. Come and See (1985) van Elem Klimov staat zelfs bij iedereen in de top 10 en Andrei Tarkovsky's Stalker (1979) en The Mirror (1975) worden vaak genoemd. Uiteraard horen we graag welke films we volgens jou te weinig recht doen of wat je eigen top 10 zou zijn.
De top tien van Erwan Ticheler
01. Come and See (Klimov, 1985)
02. The Banishment (Zvyagintsev, 2007)
03. The Man with a Movie Camera (Vertov, 1929)
04. Earth (Dovzhenko, 1930)
05. October (Eisenstein,1928)
06. Battleship Potemkin (Eisenstein, 1925)
07. Lady with a Dog (Kheifitz, 1960)
08. Leviathan (Zvyagintsev, 2014)
09. Russian Ark (Sokurov, 2002)
10. The Major (Bykov, 2013)
De top tien van Rik Niks
01. Stalker (Tarkovsky, 1979)
02. Komissar (Askoldov, 1967)
03. Lady with the Dog (Kheifits,1960)
04. Come and See (Klimov,1985)
05. Ivan Groznyy I + II (Eisenstein,1944)
06. Andrei Rublev (Tarkovsky,1969)
07. The Cranes are Flying (Kalatozov,1957)
08. The Mirror (Tarkovsky,1975)
09. Solaris (Tarkovsky,1972)
10. The New Babylon (Kozintsev – Trauberg,1929)
De top tien van Fedor Ligthart
01. The Man with a Movie Camera (Vertov, 1929)
02. Come and See (Klimov, 1985)
03. Stalker (Tarkovsky, 1979)
04. Andrei Rublev (Tarkovsky, 1969)
05. Battleship Potemkin (Eisenstein, 1925)
06. The Cranes are Flying (Kalatozov, 1957)
07. Ivan Groznyy I + II (Eisenstein, 1944)
08. The Mirror (Tarkovsky, 1975)
09. After Death (Yevgeni Bauer, 1915)
10. Komissar (Askoldov, 1967)
De top tien van Theodoor Steen
01. Stalker (Tarkovsky, 1979)
02. Come and See (Klimov, 1985)
03. Hard to be a God (German, 2013)
04. Soy Cuba (Kalatozov, 1964)
05. The Man with a Movie Camera (Vertov, 1929)
06. 4 (Khrzhanovskiy, 2005)
07. Shadows of Forgotten Ancestors (Parajanov, 1965)
08. Dersu Uzala (Kurosawa, 1975)
09. The Banishment (Zvyagintsev, 2007)
10. Russian Ark (Sokurov, 2002)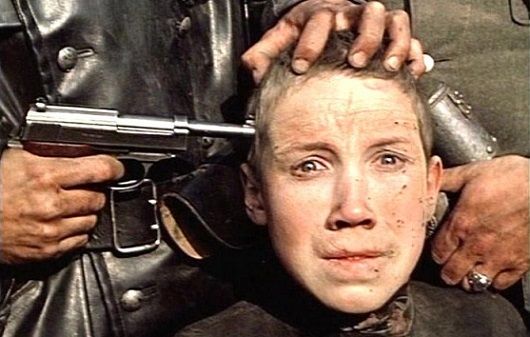 De top tien van Kaj van Zoelen
01. The Mirror (Tarkovsky, 1975)
02. Come and See (Klimov, 1985)
03. Hedhehog in the Fog (Norshteyn, 1975)
04. The Cranes Are Flying (Kalatozov, 1957)
05. The Asthenic Syndrome (Muratova, 1990)
06. Winnie-the-Pooh Goes Visiting (Khitruk, 1971)
07. Soy Cuba (Kalatozov, 1964)
08. Burnt By The Sun (Mikhalkov, 1994)
09. Faust (Sokurov, 2011)
10. The Snow Queen (Kazansky, 1966)
De top tien van Hendrik de Vries
01. The Mirror (Andrei Tarkovsky, 1975)
02. Stalker (Andrei Tarkovsky, 1979)
03. The Man with a Movie Camera (Dziga Vertov, 1929)
04. Come and See (Elem Klimov, 1985)
05. Nostalghia (Andrei Tarkovsky, 1983)
06. Komissar (Aleksandr Askoldov, 1967)
07. The Cranes are Flying (Mikhail Kalazotov, 1957)
08. Solaris (Andrei Tarkovsky, 1972)
09. The Banishment (Andrei Zvyagintsev, 2007)
10. Russian Ark (Aleksandr Sokurov, 2002)
Onderwerpen: Come and See, Stalker, The Mirror
1 Reactie
beavis
Op 02-04-15 om 10:26 #

het is in mijn database soms lastig zoeken welke films wel en niet bij Rusland horen. door het uiteenvallen van de Sovjet-Unie uiteraard. en Nostalghia stond dan bijvoorbeeld als eerste bij Italië, maar is voor mij toch een belangrijke Russische titel… heb er dus maar twee lijstjes van gemaakt :)

Sovjet-Unie

Stalker (1979)
Nostalghia (1983)
Astenicheskiy Sindrom (1989)
Papa, Umer Ded Moroz (1991)
Idi i Smotri (1985) Come and See
Vecher Nakanune Ivana Kupala (1968)
Zerkalo (1975) the Mirror
Peremena Uchasti (1987) Change of Fortune
Letyat Zhuravli (1957) the Cranes are Flying
Novyy Vavilon (1929)

Rusland

Kamen (1992) the Stone
V Tumane (2012) In the Fog
Otets i Syn (2003) Father and Son
Kochegar (2010) A Stoker
Faust (2011)
Mat i Syn (1997) Mother and Son
Angely Revolyutsii (2014)
Serdtsa Bumerang (2011) Heart's Boomerang
Serebryanye Golovy (1998) Silver Heads
Molokh (1999)